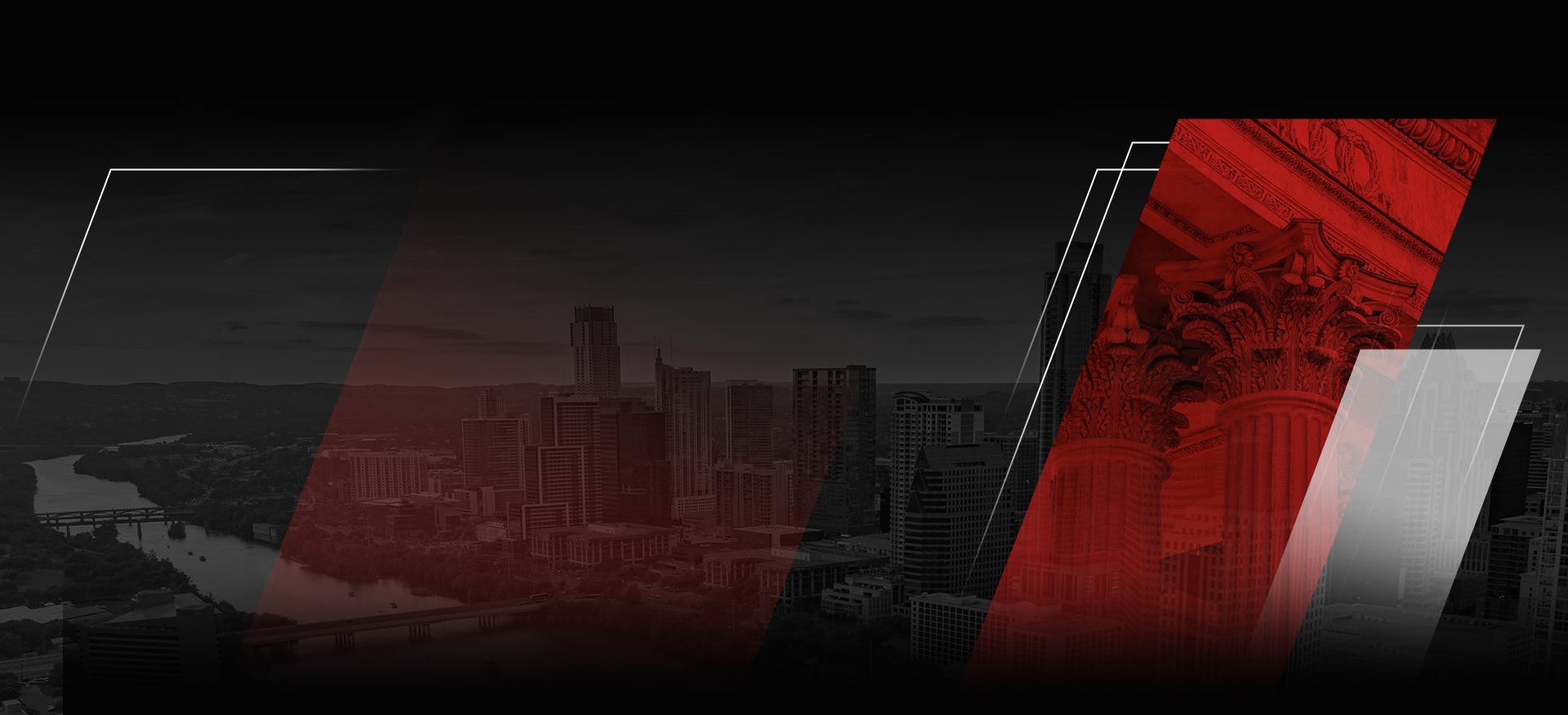 WE FIGHT FOR YOU
With a never-give-up approach, Smith & Vinson provides aggressive criminal defense for clients facing a wide range of charges.
67 Combined Years of Experience
30,000+ Cases
400+ Trials
Tailored Defense From Former Prosecutors
Austin Criminal Defense Attorneys
Let Us Fight for Your Rights
When accused of a crime, you need a talented and powerful Austin criminal defense lawyers to protect your interests. You have constitutional rights and the criminal justice system offers numerous protections, but you will not experience these to the fullest extent unless you have a skilled Austin criminal defense lawyer in your corner.
Smith & Vinson Law Firm stands prepared to deliver the aggressive defense counsel you need in the face of an arrest or criminal charges. The criminal misdemeanor and felony cases we handle include assault, drug crimes, domestic violence, juvenile crimes, murder, sex crimes, theft crimes, traffic offenses, violent crimes, weapon charges, and more.
We fight for our clients, protecting their rights from the moment we become involved in their cases. Austin criminal defense attorneys Jarrod Smith and Brad Vinson are relentless, hardworking, and completely dedicated to achieving the best possible result in every case they take on. When you come to our firm, you will find that we listen to you and never accept what the prosecutor says at face value. We seek out the truth.
To speak to an experienced Austin criminal defense attorney, contact us online or call (512) 359-3743 today.
Austin Attorneys Challenging Drunk Driving Charges
One of the most frequently charged offenses in the Austin area is DWI (driving while intoxicated). We are committed to helping our clients not only avoid jail time and the other serious consequences of a DWI conviction in criminal court, but to protecting their driving privileges in administrative hearings with the Texas Department of Public Safety. A DWI arrest alone can have a significant impact on your life. We are here to protect your interests.
Defense Attorneys in Austin Fighting for You
Our experienced defense attorneys in Austin will fight for anyone facing a legal challenge in Texas. Our defense attorneys will conduct their own investigations, question witnesses thoroughly, and strive to create the most compelling defense for your case. Our criminal attorneys can ensure your fair treatment under applicable laws through a deep understanding of Texas laws and the legal rights and privileges it affords defendants. Don't feel overwhelmed by criminal charges in Texas—contact our defense attorneys in Austin today to start building your defense.
How Our Austin Criminal Defense Attorneys Can Help
Here are some of the advantage of hiring our Austin criminal defense lawyer:
Legal Expertise: Our team has a deep understanding of local, state, and federal laws, as well as the criminal justice system. We possess the knowledge and experience to navigate the complexities of criminal cases, ensuring that your rights are protected and your defense is strong.
Protect Your Rights: Our Austin criminal defense attorney will work diligently to safeguard your constitutional rights throughout the legal process. We will ensure that you are treated fairly, that proper procedures are followed, and that any evidence against you is lawfully obtained.
Case Evaluation and Strategy: We can thoroughly evaluate your case, examining the evidence, witness statements, and legal precedents to identify the strengths and weaknesses of the prosecution's case against you. Based on this evaluation, we can develop an effective defense strategy tailored to your specific circumstances, aiming to minimize the potential consequences or even get the charges dismissed.
Negotiation Skills: We are a team of skilled negotiators. Our firm can engage with the prosecution to negotiate plea bargains or reduced charges, if appropriate and in your best interest.
Courtroom Representation: If your case goes to trial, having a competent defense lawyer is crucial. Our team will advocate for you in the courtroom, presenting your defense, cross-examining witnesses, and challenging the prosecution's case. We are familiarity with courtroom procedures, rules of evidence, and persuasive arguments can significantly impact the outcome of your trial.
Mitigation of Consequences: In the event of a conviction, our firm can work to mitigate the potential consequences. We may argue for reduced sentencing, alternative sentencing options, or rehabilitation programs to help you get your life back on track as smoothly as possible.
Emotional Support: Being accused of a crime can be an overwhelming and stressful experience. Our Austin criminal defense lawyer can provide the emotional support you need during this challenging time. We can offer guidance, reassurance, and a compassionate ear, helping you navigate the legal process with confidence and peace of mind.
What is the Role of a Criminal Defense Attorney in Texas?
In Texas, a criminal defense attorney plays a critical role in the criminal justice system, acting as a staunch advocate for individuals accused of crimes. Here are the key aspects of our role as Austin criminal defense attorneys:
Legal Representation and Advocacy: Defense attorneys provide legal representation to individuals facing criminal charges. We serve as our clients' advocates, ensuring their rights are protected throughout the legal process.
Investigation and Case Analysis: We thoroughly investigate the charges against their clients. This includes scrutinizing evidence, gathering information, interviewing witnesses, and analyzing the legality of the procedures followed by law enforcement.
Building a Strong Defense: Based on analysis, our defense attorneys construct a robust defense strategy. This can involve challenging the evidence, presenting alternative narratives, or asserting legal defenses to secure the best possible outcome for our clients.
Negotiating with Prosecution: We negotiate with the prosecution to seek favorable outcomes for their clients, such as reduced charges, plea bargains, or alternative sentencing arrangements. Skilled negotiation can significantly impact the penalties an accused person might face.
Courtroom Representation: Our Austin criminal defense attorneys represent their clients in court during pre-trial hearings, arraignments, plea negotiations, and trial. We present arguments, cross-examine witnesses, and make legal motions to advance their defense strategy.
Client Support and Communication: Our criminal defense lawyers offer emotional support to our clients, explaining the legal process and potential consequences. We maintain open communication, keeping our clients informed about case developments and advising them on the best course of action.
Overall, our Austin defense attorney's role is centered on providing a strong defense, ensuring due process, and protecting the rights and interests of individuals accused of criminal offenses.
To speak to an experienced Austin criminal defense attorney, contact us online or call (512) 359-3743 today.

A Proven Track Record
Check Out Our Recent Case Results
Sexual Assault

Not Guilty

Sex Assault Investigation

No Charges Filed

DWI .24 Blood Warrant

Not Guilty

Assault Family Violence

Case Dismissed
We Specialize in Criminal Defense Cases
Helping the Accused in Austin & Central Texas
Our Client Reviews
Making People Our Priority
Their Passion for the Law Is Unmatched

I have my life back and I owe it to them.

- Former Client

Exceptional Legal Strategies

Jarrod and Brad used what I consider exceptional legal strategies and won my case...

- Mike

Top Notch Lawyers

Top Notch Lawyers! They spent countless hours working and reviewing my case and ensuring that my case was dismissed.

- Arion
What Makes Us Better

The Defense You Need
Why Hire Smith & Vinson?
Our Austin criminal defense lawyers approach all criminal matters with determination, considering the fact that the outcome of your case could completely change your life as you know it. When you choose Smith & Vinson Law Firm, you retain relentless advocates willing to do everything it takes to protect your freedom and constitutional rights. No strangers to the courtroom, our fearlessness during trial has helped us obtain ideal results even in the most difficult and complex cases.
Team Approach to Your Injury Case
Highly Personalized Representation
Honest & Straightforward Legal Guidance
Former Prosecutors on the Team
Schedule Your Free Consultation With a Defense Attorney in Austin
We Have Offices in Austin, Georgetown & San Marcos