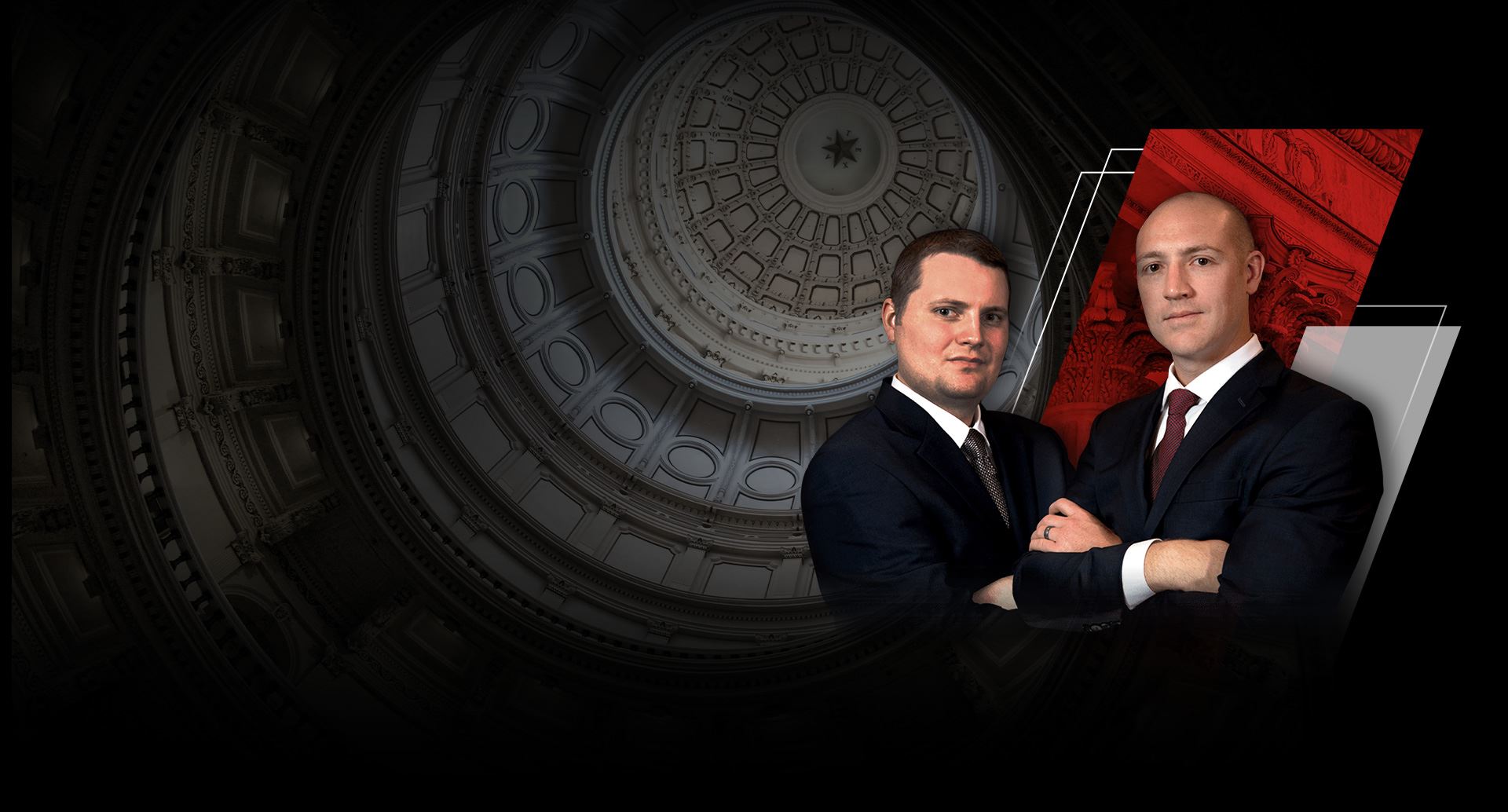 Austin Personal Injury Attorney
Boldly Defending Your Best Interests
Personal Injury Attorney In Austin, TX
Attorneys Helping Recover Your Entitled Compensation In Austin - Call

(512) 359-3743
Suffering an injury in an accident can be a traumatic and emotionally overwhelming experience. Not only must you deal with medical bills, lost wages, as well as pain and suffering from the injury, but the at-fault party and their insurance company may also be reluctant to cover your expenses. Fortunately, by hiring an experienced Austin personal injury attorney to handle your case, you don't have to deal with these issues alone.
At Smith & Vinson Law Firm, we can protect your rights and best interests throughout the entire legal process to help you obtain the financial compensation and justice you deserve. Our Austin personal injury lawyer can investigate your accident, gather evidence, negotiate with insurance adjusters, and maximize your entitled compensation to help you make the best possible recovery from injury. Although our personal injury attorneys have helped many individuals receive the compensation that they deserve after an accident in Austin, TX, we understand that each situation is unique, and we make sure to treat each case with the individual attention it needs.
---
Call (512) 359-3743 to schedule a free consultation with our Austin personal injury attorneys.
---
Personal Injury Cases We Handle In Austin, TX
Our Austin personal injury lawyers handle the following types of personal injury cases:
Car accidents
Truck accidents
Motorcycle accidents
Premises liability
Product liability
Dog bites
Medical malpractice
Birth injury
Workplace accidents
Wrongful death
What Are The Benefits Of Hiring A Personal Injury Attorney In Austin, TX?
If you or a loved one was recently involved in an accident, our personal injury attorneys are ready to fight for you and help ensure that you receive the full compensation amount that you are eligible for. Whether you got into a workplace accident or a rideshare accident, we are here to assist you. Hiring an attorney is extremely important during this time, as you will need all of the legal support and guidance that you can get. Don't go through the repercussions of your accident without professional help, let our attorneys help you.
Benefits to consider when hiring an attorney include:
Professional legal guidance
Expert answers to all of your questions
Clarity regarding the best legal route to take for your specific case
Legal counseling throughout the entire process
Emotional support and reassurance
Paperwork that is completed correctly and promptly
Fierce representation in court
Strong evidence gathered to support your case
Effective negotiation strategies involving insurance companies
Attorneys who will fight to maximize your compensation amount
When you schedule a free consultation with our Austin personal injury lawyers, our legal team will review your case and determine all available legal options to determine the best ways to recover your entitled compensation. Do not hesitate to let us guide you through the complexities of the legal process while you recover from your injury.
What Are Personal Injury Laws In Texas?
The statute of limitations for personal injury lawsuits in Texas gives injured individuals two years from the date of the accident to file a claim in civil court. However, if an injury involves holding a government entity or employee liable, a claim must be filed within six months of the accident.
Since most personal injury cases are based on negligence, the plaintiff must establish the following four elements by proof by the preponderance of the evidence:
The defendant owed the plaintiff a duty of care to conduct themselves in a reasonable and safe manner.
The defendant breached this duty due to negligence, recklessness, carelessness, or otherwise failing to do what a reasonable person would do under the circumstances.
The breach resulted in the plaintiff's injuries, also known as causation.
The plaintiff suffered damages as a result of the accident and injury.
In some cases, the plaintiff may share some fault for an accident and injury. When it comes to shared-fault cases, Texas adheres to a "modified comparative negligence" rule, which means the amount of compensation a plaintiff will receive is reduced by an amount that is equal to his/her percentage of liability. If a plaintiff is more than 50 percent at fault, he/she cannot collect anything from the liable parties.
What Should I Do After A Car Accident?
If you or someone you care about recently got into an accident, there are certain steps that you need to take.
Steps to take after a car accident include the following:
Check Your Injuries: First and foremost is the safety of you and the people around you. Get to safety as soon as you can.
Call The Police: It's important that you call 911 as soon as possible
Wait For Help: It's important that you patiently wait for the police to get to you, and for any other help that is required depending on the severity of the accident.
Gather Information: Take down the license plate numbers, names, driver's license numbers, and addresses of the drivers involved in the accident.
Photographs: Take photographs of the accident so that you can, later on, use them as evidence for your case.
Documentation: Apart from photographs, note down details related to the accident that you can talk about with your lawyer and use for your case.
Contact Your Insurance Company: Contact your insurance company and start the claims process. The sooner you do this, the better.
Contact A Lawyer: Lastly, it's also important to contact a lawyer as soon as you can. An attorney will be able to navigate you through the claims process, and save you from making any potentially costly mistakes.
What Are Available Damages in Texas Personal Injury Lawsuits?
There are three types of damages available to personal injury victims: economic, noneconomic, and punitive damages.
Economic damages represent the tangible losses that the plaintiff has incurred from the accident and injury. Common examples of economic damages include medical expenses, lost income, and property damages.
Noneconomic damages represent the intangible losses the plaintiff suffered and are not directly connected to certain economic losses, which is why these types of damages are harder to prove. Common examples include pain and suffering, emotional distress, loss of enjoyment in life, loss of consortium, disfigurement, and scarring.
Lastly, punitive damages are meant to punish a defendant for grossly negligent or reckless conduct. In addition, it is also intended to deter similar conduct in the future.
Keep in mind, that there are caps on damages in medical malpractice cases in Texas. For example, noneconomic damages are limited to $500,000 overall and $250,000 per defendant.
Suggested Reading:
---
Contact our Austin personal injury lawyers today at (512) 359-3743 for a free consultation!
---
Recent Client Reviews
Earning Our Reputation by Protecting Yours
Their Passion for the Law Is Unmatched

I have my life back and I owe it to them.

- Former Client

Exceptional Legal Strategies

Jarrod and Brad used what I consider exceptional legal strategies and won my case...

- Mike

Top Notch Lawyers

Top Notch Lawyers! They spent countless hours working and reviewing my case and ensuring that my case was dismissed.

- Arion
Let's Discuss Your Case
Schedule a Free Consultation