Hays County Criminal Defense Lawyers
Powerful and Dedicated Legal Representation
If you've been charged with a crime, it's vital to have a lawyer you can trust handle your case. After all, the level of representation you receive can have a substantial impact on the outcome. At Smith & Vinson Law Firm, our Hays County criminal defense attorneys recognize what is at stake in these matters and are ready to fight for you. When you hire our team, we jump into action right away to begin building a strategic legal defense for you.
Although our team has successfully handled many cases, we know that no two matters are the same. Your situation, your goals, and your needs are unique. When you turn to our Hays County criminal defense attorneys, you can be sure that you will be treated as an individual. We will begin building your defense by getting to know you and learning about the incident from your perspective. Whether you've been charged with a DWI, assault, or a drug crime, we will gather all the information we need to craft an innovative strategy on your behalf.
For the legal representation you need with our with Hays County criminal defense lawyers, reach out to Smith & Vinson Law Firm by calling (512) 359-3743 today.
Our Hays County criminal defense attorneys know that fighting serious charges takes thorough preparation. That is why we will comb through every detail of your case and speak with witnesses to gain a comprehensive understanding of the matter. Our team consists of former prosecutors, which means we have insight into how the other side approaches criminal cases. We can use this knowledge to your advantage when attacking the accusations against you.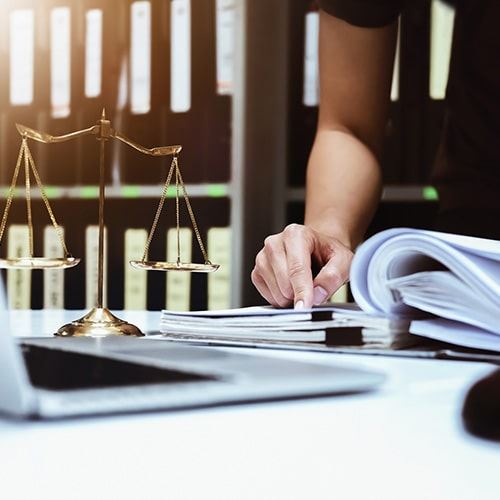 Facing criminal charges can be overwhelming, especially if you're unfamiliar with the law and legal system. Our criminal defense lawyers in Hays County have an in-depth understanding of the judicial process and can deliver the guidance and counsel you need. We will walk you through your case, explaining the different court proceedings you may be required to attend and the paths your case could take.
Our Hays County criminal defense lawyers provides honest and straightforward representation. If you have a question or concern, you can trust that we will deliver a clear and understandable response. We will be there when you need us and will arm you with the information you need to make sound decisions about how your case proceeds. We know there's not a one-size-fits-all approach to criminal defense matters, and we will focus on your needs and protecting your best interests at every stage.
"The absolute A-Team for DWI defense. Period!"
- John (Former Client)
Seeking Results for Our Clients
Our Hays County criminal defense attorneys have extensive experience handling various criminal matters, including DWI, assault family violence, drug crimes, and sex crimes. In even the most complex cases, our lawyers have achieved favorable results for past clients. We recognize that previous victories do not guarantee future outcomes, but we know what it takes to get results, and we are prepared to pursue every legal option on your behalf. Skilled negotiators and experienced litigators, our criminal defense lawyers in Hays County seek the best possible outcome, whether that means striking a deal with the prosecutor or presenting a compelling argument in court.
2nd DWI Not Guilty

2nd DWI Not Guilty

2nd DWI Case Dismissed

Aggravated Assault & Tampering with Evidence Deferred Adjudication

Aggravated Assault Family Violence w/ Serious Bodily Injury Deferred Adjudication

Aggravated Assault w/ Deadly Weapon Case Dismissed

Aggravated Assault with a Deadly Weapon Case Dismissed

Aggravated Robbery Case Dismissed

Assault Family Violence Case Dismissed

Assault Family Violence Case Dismissed