Jennifer Taylor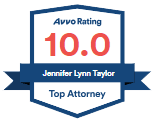 Jennifer Taylor is a passionate and dedicated attorney who believes that preparation, attention to detail, and work ethic are the keys to winning a case.
Jennifer completed her undergraduate degree in political science at Lamar University in Beaumont, Texas, graduating magna cum laude. She attended law school at South Texas College of Law, where she met Partners Jarrod Smith and Brad Vinson. While a law student, Jennifer focused on gaining as much real-world experience as she could. Experiences such as her internship with the Army Judge Advocate General's Corps and her participation in two of South Texas' legal clinics allowed Jennifer to work closely with clients and help them navigate an often confusing and complicated legal system in order to obtain the results they wanted. Academically, Jennifer focused on honing her legal research and writing skills, serving as Editor-in-Chief of Currents: Journal of International Economic Law. Jennifer graduated South Texas summa cum laude.
Jennifer's academic success led to her appointment after law school as a judicial law clerk for the Eleventh Court of Appeals in Eastland, Texas. As a clerk, Jennifer worked closely with appellate judges on a wide range of criminal law issues, such as post-conviction DNA testing, the Fourth, Fifth, and Sixth Amendments, admissibility of evidence (including expert testimony in complicated sexual assault and murder cases), and many others. Jennifer's work at the court instilled in her a set of values that she carries with her throughout her career, including work ethic, honesty, compassion, and a desire to fight for truth and justice.
Jennifer lives in Round Rock, Texas with her two sons, Atticus and Noah, and her boxer, Khal Drogo.
Education
J.D., South Texas College of Law
Summa cum laude
­Top 5% of class
Editor-in-Chief of Currents: JIEL
Vice President of the South Texas Criminal Law Society
B.S., Political Science, Lamar University
Honors Program Graduate
Magna Cum Laude
Bar Admissions
Professional Experience
Judicial Law Clerk, Eleventh Court of Appeals of Texas, 2016-2018
Law Clerk, Law Office of Paul D. Clote, 2014-2016
Intern, Office of the Staff Judge Advocate, U.S. Army, 2015
Research Assistant to Prof. Geoffrey Corn, South Texas College of Law, 2014-2015
Judicial Intern with Hon. Frances H. Stacy, Magistrate Judge, Bob Casey Federal Courthouse, 2013
Awards & Recognitions
CALI Awards for:
Criminal Law
Contracts I & II
Legal Research & Writing
Wills, Trusts, & Estates
Payments Systems
National Security Law
Federal Income Tax
Copyright Law